Igrek Machine Tools
Becoming the most focused and integrated CNC Machine Tool Production Factory of Turkey based upon our strong roots of 75-year industry experience.
The experience of the company increased by supplying machine tool parts for global market and working with a highly equipped internal machining department. This department includes:
Waldrich Coburg Grinding Machine: 6000 x 2000 x 1500 mm
Fermat Horizontal Boring & Milling Machine with rotary table: 12000 x 4000 x 2000 mm
10 Bridge Type Milling Machines with various functions, sizes up to 10000 mm in X Axis.
3 Vertical Lathe Machines with CNC and C-Axis, diameters up to 5000 mm.
All this Know How and machinery finally led to constitution of the new machine tool production department. Igrek Machine Tools production began with 2 different machines and they are both active in the premises: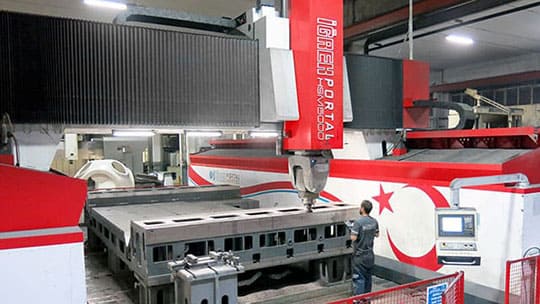 Igrek Portal HSM 5000
5-Axis Gantry Type Milling Machine
10000 x 5000 x 2000 mm
5000 rpm continuous head
Siemens 840D CNC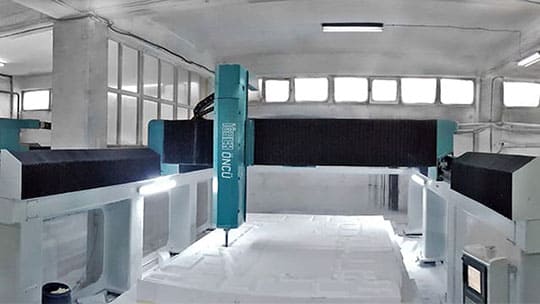 Igrek Öncü Series
Light Weight, High Speed Milling Machine
6000 x 4000 x 1500 mm
Siemens 828 CNC
The Machine Tool Design, Assembly and Service Team is now preparing the new 4 machine types explained within this website. The aim of the company is to build:
High technology & quality machines in good price level
Cast Iron machine structure for best rigidity & dynamic stability
Specializing designs for special customer demands
E-Catalog
For more information about Igrek Machine Tools, please download the e-catalog!
Inquiry Form
You may send your inquiry and questions about Igrek Machine Tools by filling out the form below.