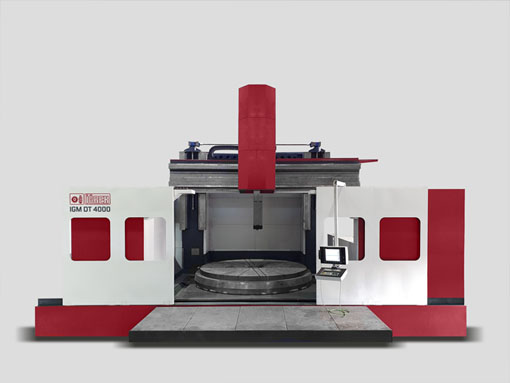 IGM DT 4000
Vertical Lathe with Ø5000 mm Hydrostatic Rotary Table & Moving Traverse
World-class CNC vertical lathe, capable of precision machining for heavy parts with its direct driven, hydrostatic guided rotary table and moving traverse. Milling and hole drilling abilities thanks to live spindle and precision positioning C-Axis.
Hydrostatic Guided Rotary Table with C-Axis
Milling, Boring, Grinding with Live Spindlema özelliği
Moving Traverse
Work Load Capacity: 40000 kg
Inquiry Form
Send your inquiry and questions about IGM DT 4000!
Technical Details
Igrek Machine Tool IGM DT 4000
Table Diameter
mm
4000
Max. Turning Diameter
mm
5000
Max. Turning Height from Table
mm
2000
Ram Slide Stroke
mm
2100
Ram Section
mm
350 x 350
Vertical Travel of the Moving Traverse
mm
2000
Table Drive System
Segmented Direct Drive Motors
Table Torque
Nm - nominal
8200
Nm - max.
14400
Table Speed
rpm
60
Table Workload
kg
40000
Table Guide System
Hydrostatic Bearing and Guides
Spindle Speed
rpm
4000
Spindle Power
kW
37
Spindle Torque
Nm
1200
Tooling Taper Type/td>
ISO 50
X
7500
Machine Size
mm
Y
12000
Z
9500
Machine Weight
kg
125000
Photos
Igrek Machine Tool IGM DT 4000
All
IGM DT 4000
Technical Drawing
E-Catalog
For more information about Igrek Machine Tool IGM DT 4000, please download the e-catalog!
Inquiry Form
You may send your inquiry and questions about Igrek Machine Tool IGM DT 4000 by filling out the form below.